Tickets are almost all gone, 90% are already sold. Secure Your Tickets Now, to Win Big with this Luxury Lifestyle Package Worth Over $1,855,000 RSL Draw 342
You could be celebrating more than just the New Year, in 2017. You could be Celebrating with a House Warming Party after winning this Luxurious new Home located at 2 Middle Quay Drive, Biggera Waters, Qld 4216, on the Gold Coast.
Think Prime Canal Front Land, a 702sqm block, it is an enormous block and on it, RSL Art Union have designed a Colossal 391sqm Lifestyle Prize Home, perfect for you and your family.
If you are the ticket holder, fortunate enough to snag this luxuriously spacious open plan home, your New Year 2017, will be the most memorable yet.
Think weekends unwinding with friends or loved ones, think deck chairs, think favourite music, crystal clear, sparkling blue in-ground saltwater pool, think home brew, think laughter and more laughter, as you forget you concerns, you can celebrate your win. And who wouldn't? Any financial concerns you may have had, are solved now, they are behind you.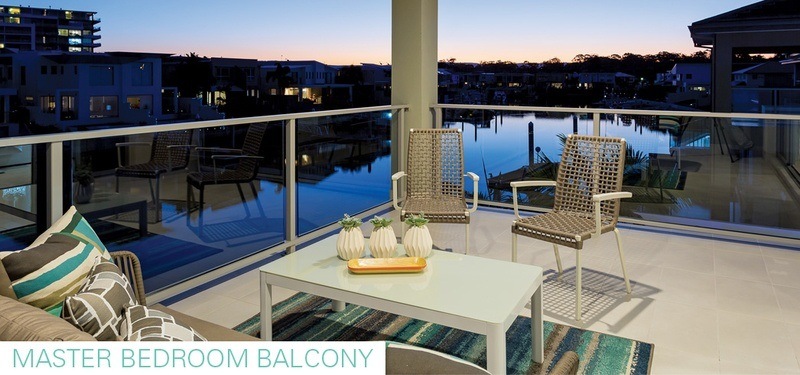 In the New Year, you will be a new you! You can look ahead with worldly comforts, you can plan for those things that you may have felt like they were only ever going to be a pipe dream.
Imagine having the entire top floor to yourself, ladies can prepare for an all-girls night out, a couple in the Ensuite, prepping and primping, a couple calling out plans from the balcony, wine glasses in hand, while another couple of ladies are in the bedroom, sizing up how dazzling they all look for their night on the town.
Meanwhile, across the hall, the men are cheering loudly to Fox Sports, as if the team can actually hear them, the ladies can't hear them either, the men aren't going to miss the ladies at all are they?
Once the game is over, the mini bar is flashing red on empty and they get hungry, they are going venture downstairs to the absolute Canal Front Alfresco Dining and lounge, to throw some scallops, prawns and marinated rib fillet, on the BBQ and decide who cooks a better beef! Does a dash of home brew really make the difference?
You turn around and look at the canal, is there a boat tied up to your pontoon? Yes? Just as well you purchased those extra tickets then, that Gold Bullion really comes in handy, for the little luxuries, life will have on offer. Without a doubt, the boys are impressed with your new pad.
Now, if you were the winners of this Fabulous Prize Home, you would need to decide, if you would love to relocate and reside in this immaculate home built in 2016 by Hyatt Homes, or if you would rather decide on another plan of action? How will this story play out?
The New Year could certainly bring a whole new lifestyle, for you to provide for your family.
Keep in mind, Christmas is rapidly approaching and RSL Art Union 342 Tickets are the perfect gift for loved ones and those people (we all have some) who just seem to have everything you can think of. It's the gift that could keep on giving.
You can purchase tickets now, quickly, easily and safely. Just follow this link.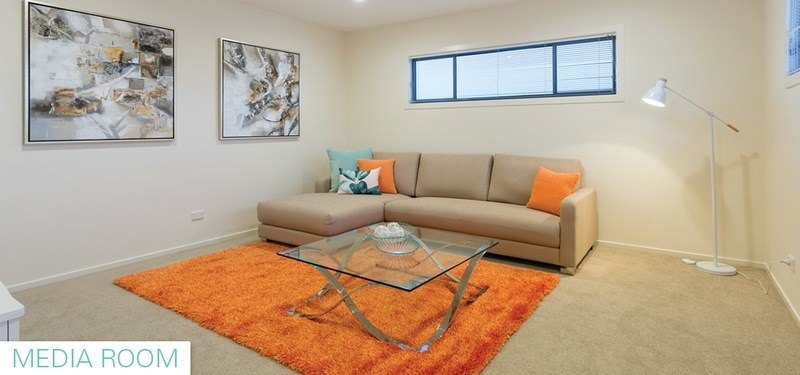 Draw 342 Luxury Lifestyle Package Includes;
702sqm Canal Frontage Land, located at 2 Middle Quay Drive, Biggera Waters, Qld 4216.
Rates and water are paid for the first 12 months, worth $3,484 per year.
Impressive 391sqm Two Story Home designed for Luxury living by RLS Art Union and built by Hyatt Homes, the upper level boasts the enormous main bedroom, with double French style doors, a spa bath nestled in the Ensuite with his and her basins and a spacious balcony, overlooking the canal. Also upstairs is a study area and through another set of double doors, is the well-appointed media room.
6.3m x 2.95m lux salt water pool with opulent water feature.
Landscaped Gardens with a tropical theme, in keeping with the surroundings.
The ground level hosts 3 bedrooms, 2 with double beds & one is larger with two single beds, perfect for stay overs and entertaining family and friends. The main bathroom is located close to the bedrooms, as is the powder room. Double lock up garage, laundry with direct access to the drying court. The main living areas are closer to the water, the kitchen sets the tone for the rest of the living areas, with its shades of cream, it is well appointed with high end stainless steel appliances. It is warm, it is welcoming and it is Divine! The Lounge and dining areas will impress you, the furnishings have been designed to within an inch of its life and you can help live it. Lastly, the Alfresco is stately and it says yes you have arrived, sit, relax and be gracious.
Ducted Air-conditioning
The Luxury package includes, Gold Bullion worth $210,000.
You would also take home $145,266 in furniture and electricals appliances.
Direct access to one of the Gold Coasts Canals, to explore it and beyond, at your leisure.
If you decide to rent your new property out, you could receive an estimated annual income of $57,200
$2,000 travel voucher, to inspect your new Prize Home.
A white Audi A6 RRP $93,626, with all on-road costs including; registration in Qld for the first 12 months, Dealer delivery to the Gold Coast and GST, (comprehensive insurance not included)
The total Luxury Lifestyle Package 1st prize, is valued at $1,855,751.
Remember! The more you Buy Tickets Now, Art Union 342, the more chances you have of Winning First Prize. And…the more Gold bullion you will receive on top of the 1st Prize Luxury Lifestyle Package!
Important Dates to Remember!
Draw No 342 closes at 8PM AEST; Tuesday 24th January 2017
The Winner will be drawn at 10AM AEST, Wednesday 1st February 2017
Winners will be notified by Registered Mail. Results to be published in the public notices section of 'The Courier Mail' and 'The Australian' on Friday 3rd February 2017.
RSL Art Union Luxury Prize Home Beckons You to Visit
Location: 2 Middle Quay Drive, Biggera Waters, Qld 4216
Biggera's Beauty certainly will entice you with its charm. Tickets are strictly limited to 2,045,000, so your chances of winning are already maximised, so you don't want to miss out and have to wait for the next Prize Home. Many will be purchasing Draw 342 Tickets as Christmas presents, so Tickets may sell out faster than normal.
You have the opportunity to view the home that could be yours, if you win Prize Home Draw 342, commissioned by RSL Art Union and built in 2016, by renowned Builders, Hyatt Homes.
This stunning RSL Art Union Prize Home is open for inspection from 9AM until 5PM, 7 days a week, until the closing day of Draw 342.
The RSL Prize Home will be closed on 25th -27th December 2016 and 1st – 2nd January 2017.
Visitors are asked to be mindful of neighbouring homes in the precinct and to adhere to local traffic bylaws. As the holiday season is upon us, there may be more children in and around residential streets, so extra caution is advised.
Directions:
From the Gold Coast Airport, head south-west on Terminal Drive toward Eastern Avenue. Turn right onto Eastern Avenue, at the roundabout, take the second exit into Terminal Drive. Turn left to Gold Coast Highway, you will see directional signs for Surfers Paradise or Brisbane. Drive to the M1 from Gold Coast Hwy and Tugun Currumbin Rd. Follow M1 to Gavin, take exit 66 to Naper Road, then, Captain Cook Drive, Pine Ridge Road and finally, E Quay Drive to 2 Middle Key Drive in Biggera Waters.
Travel time from Gold Coast Airport to Biggera Waters, is approximately 40 minutes.
First Prize Package worth Over $1,855,751 Million. You would be a Millionaire!
When you Buy Tickets Now in RSL Art Union Draw 342, you hold Chances to Win Big and be handed the Keys to your new Home and Luxury Lifestyle Package; Worth a Whopping $1,855,751.
Included in the Winning Package is;
A Brand new Luxury Canal Front Home built to impress, by RSL Art Union, the first year's rates and water rates, are covered. The home comprises over $145,000 in furniture and electrical appliances.
This Prize Home boasts an irresistible in-ground salt water pool to chillax around, on weekends, an Audi A6 parked in your double lock-up garage. $210,000 in gold bullion, will you or won't you sell it for cash? The cash could be a deposit on another investment property, which will continue to bring in the rent, well into the future, you could consider it your retirement funds. (Note: you should always consult a trusted accountant or financial adviser, before making large investment decisions).
Spacious Home with 8 Separate Living Areas
Many people in today's property market place, will never afford a deposit on a home, in addition to mortgage payments. Even fewer will ever own their own home outright. And even fewer again will ever own a prestige waterfront property, surrounded by multi-million dollar homes, in an elite precinct. When you purchase tickets to win this RSL Art Union Draw 342 Luxury Lifestyle Package Prize home (that's a mouth full, say it fast 3 times). You are investing in your chances of winning BIG and accomplish that Great Australian Dream of home ownership.
This Home has 8 separate living areas, including 4 outside, which are; ground floor- Kitchen, Dining room, Living room, Alfresco dining, Alfresco lounge, and poolside. Upstairs has a balcony off the main bedroom and a Media room. You will be spoilt for choices, more than likely you will gravitate to the waterfront areas, to catch the natural breezes.
We invite you to secure your Art Union Tickets today!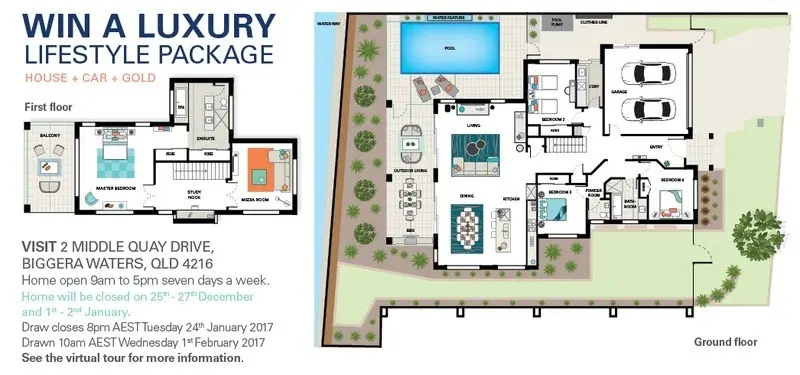 Some Features of Your Luxury Home!
RSL Art Union 1st Prize; Home Luxury Lifestyle Package includes;
391sqm brand new home nestled on 702 sqm Prime Canal Front Land, fully fenced.
Master suite could occupy the entire 1st level as a Parents retreat, with a spacious Walk-in Robe, Ensuite, Study and Media room
This Prize Home is Located in a Prestigious Waterway Precinct, Surrounded by Multi-Million Dollar Homes.
Four spacious bedrooms, 2 ½ bathrooms, open plan living, double lock up garage.
Extensive Water Views from your Master Suite and Private Balcony, as well as the Open Plan Living Areas, Kitchen and Dining Area, Alfresco and Salt Water Pool!
Well-appointed Kitchen, designed for entertaining, while you prepare sumptuous meals.
Choose to cook on the BBQ and eat in your expansive outdoor waterfront dining and lounge alfresco areas or your ultra-modern chef's kitchen.
Close proximity to the best the Gold Coast has on offer, walk along the waterfront promenade, stay home and swim some laps in your stunning blue salt water swimming pool, or head out on a boat and enjoy a close up view of the canal system.
Entertaining will be a pleasure in your alfresco dining and lounge areas, on the waterfront, watch as the sun sets over the water and the beautiful lights of neighbouring homes, dance across the water to your feet.
Don't forget, you can Buy Tickets Now, to secure your chance, to Win BIG in the RSL Art Union Luxury Lifestyle Draw 342 today!
The Gold Coast Lifestyle is World Renowned
Biggera Waters is a quiet waterfront precinct, located across the Broadwater, from the Gold Coast Spit, Bigerra Waters sits south of Runaway Bay in South East Queensland. Famous for its Theme Parks, Sandy beaches, surf and world-class shopping, Gold Coast hosts Jupiter's Casino and of course host's 'Schoolies' once a year. With a seemingly endless mixture of natural and man-made attractions, the Gold Coast always manages to attract large numbers of holiday makers, one can understand what makes the Gold Coast a location where you can truly relax, play, or take in some of the restaurants, eateries, or nightclubs, water sports or attractions.
Harbour Town Shopping Centre is moments away, as is the Coombabah High school catchment.
If you won 1st Prize in RSL Art Union Lottery Draw 342, you would be able check if surf is up, catch some waves, get some wakeboarding in or take a stroll along the oceanfront, if you are first for the day, you will see no other footsteps but your own, that's quite a unique experience.
Gold Coast Hosts a more Theme Parks, Specialty Stores, dining and Restaurant Venues than you can poke a kebab stick at, there are enough lifestyle choices to last you a lifetime!
You Could Win 2017's first RSL Art Union Prize. Be sure to order your RSL Art Union Prize Home Lottery Draw 342 tickets today!
More RSL Art Union Lottery Tickets Mean More Chances to Win & More Prizes to Win!
RSL Art Union Lottery only sells a fixed number of tickets in each Draw, providing players with great chances of winning. Only 2,045,000 tickets will be sold for Art Union Draw 342. You can increase your odds of winning even more. When you buy multiple tickets, you also get bonus tickets, which give you extra chances of winning! And if you win 1st, 2nd or 3rd, you will also win additional gold bullion!
Tickets for Draw 342 are offered as per the following pricing:
| Spend | Receive | Bonus Prize |
| --- | --- | --- |
| $500 Book | 100 Chances to Win (25 bonus tickets valued at $125) | $135,000 Gold Bullion |
| $200 Book | 40 Chances to Win (10 bonus tickets valued at $50) | $135,000 Gold Bullion |
| $100 Book | 20 Chances to Win (5 bonus tickets valued at $25) | $135,000 Gold Bullion |
| $75 Book | 15 Chances to Win (4 bonus tickets valued at $20) | $105,000 Gold Bullion |
| $50 Book | 10 Chances to Win (3 bonus tickets valued at $15) | $85,000 Gold Bullion |
| $30 Book | 6 Chances to Win (2 bonus ticket valued at $10) | $55,000 Gold Bullion |
| $20 Book | 4 Chances to Win (1 bonus ticket valued at $5) | $40,000 |
| $10 Book | 1 Chances to Win | NA |
The $50 Book is a Favourite among many players. It gives you 13 chances of winning and if you become the First Prize winner, you get additional $85,000 in Gold Bullion.
RSL Art Union Tickets make a Fabulous Christmas present for loved ones, workmates or friends, imagine their faces when they realise what They Could Win!
It's the Ultimate gift that keeps on giving.
Buy Tickets Now, in the RSL Art Union because they are the perfect gift, for that person who already has everything and anything you can think of, they either already have or it is inappropriate. RSL Tickets offer the Ultimate Lifestyle Package, while staying within your affordable Christmas present budget!
And If You Win this RSL Art Union Lottery Draw 342 Luxury Lifestyle Package?
There will be a Public draw at 10am (AEST), Wednesday 1ST February 2017, at Anzac House, 283 St Pauls Terrace, Fortitude Valley Qld 4006.
Prizes are drawn in order (1st, 2nd, & 3rd). Winners will be notified by registered mail. Results will be published in public notices of "The Courier Mail" & "The Australian" Friday 3rd February 2017.
Can you imagine winning? It would be so outrageous, so unexpected, you'd call your partner to confirm you've seen! Given there are only going to only be 2,045,000 sold, your chances are better than any of the lotteries, the more tickets you purchase, the more the percentage chance of winning gets.
Once the initial shock passes and you gather your thoughts, over the coming weeks, you are would to need make some monumental lifestyle choices, that will change your lifestyle as you know it. Tickets won't last with these odds, don't miss out!
Your Major Prize will present you with 4-5 major choices: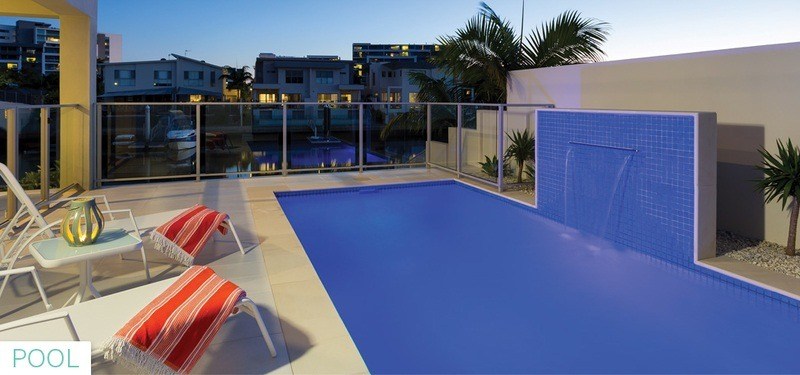 1) Move in to Your Sensational New Home.
You could move in, bring the family of course and lap up the luxury, like never before. This choice offers you the opportunity to rub shoulders with other millionaires, keep in mind, you will be a millionaire too! You can take up solo sports perhaps, like surfing, bike riding around the waterfront promenades, fishing, or meet some new people by taking up a group activity, like golf, cricket, or soccer. You would even have the time to coach one of the kids' teams.
2) Rent your Prize Home Out, Either Long Term Tenant or for Holiday Letting & a Higher Return on Your Investment
Long term tenancy rental return for 2 Middle Quay Drive, Biggera Waters, QLD 4216 is estimated at a massive $57,200 Per annum. That would be a great top up for your retirement fund. You could even choose to retire early, you won't have to work as much and one of you could give up work all together. A shorter week would allow you to fit more of those activities in.
You could also leave most of the furniture in the home and rent it out for holiday letting. That would attract a higher return, especially during the holiday seasons. This could allow you to retire even earlier, or just work part time.
3) Sell Your Prize Home and Release the Profits.
Option 3 is exciting too, it is a big call, but sales proceeds could be re-invested into other investments, you may be able to afford 2, 3 or 4 properties with the cash from your sale. You can give some to your kids, sure, it could put them through private schooling, or help them into their first homes. You should always discuss investment strategies with your trusted accountant, or financial adviser, to ensure you get the most out of your investment windfall.
4) Borrow Against The Equity in Your Prize Home and Release the Profits.
Now here is a different approach, you can release a large portion of the Equity in you RSL Art Union Prize Home, by borrowing from a lender. This is a far more aggressive approach than the other three. But some people are more experienced in money making strategies. Of course you would need to show that you have the income to make payments, but that's why you buy other homes with the windfall, so you have more money coming in.
5) What about the Gold Bullion?
Lastly, there is the small matter of the Gold Bullion! Yup, there's a whole lot of money wrapped up in Bullion. With 1st Prize in Draw 342 the Gold Bullion is valued at $210,000 and if you ordered more than one ticket, your extra Gold Bullion would range from $40,000 worth, to another $135,000. The mind boggles, winning sure does open up the options!
Doesn't matter which way you look at it, it's just darn exciting!
I didn't mention the Audi A6 in the choices, keep it. Why not? Just because you can!
Secure your tickets in the RSL Art Union Draw 342 now and don't forget, these tickets will make great and very thoughtful Christmas presents for loved ones, peers and friends alike, add them up and keep your free tickets based on how many you buy.
Gold Bullion for the Buying Multiple Tickets!
First Prize Winners sure do clean up! But they don't win everything, there are plenty more chances to win big, when you have the right tickets. You still have many chances to win Gold Bullion! The more tickets you purchase, the more bonus tickets you receive and the more opportunities you receive to win big when Lottery 342 is drawn.
If you are the lucky winner of any of these prizes, you get to receive Gold Bullion, which you can save as you please. You can also choose to sell your Gold Bullion and exchange it for money, to spend or invest, on any of the projects or activities that are close to your heart.
Buying RSL Art Union Lottery Tickets, Supports a Worthy Cause….
RSL Art Union Lotteries are the most effective form of the fundraising activities run by the RSL Foundation, to help fund and provide vital services for ex-service men and women.
Part of the funds gathered from ticket sales goes to support Australia's Defence Force personnel and their families. The foundation provides them with free services like emergency accommodation, rehabilitation, welfare services. Remember we said it's the gift that keeps on giving? Well it certainly is and in many more ways than one!
So, click the "Buy Tickets Now" button to order your tickets for Draw 342 and secure your chances to win an incredible new Home and Lifestyle on the Gold Coast, while improving outcomes and services and making a positive difference in the lives of our veterans.
How Happy will Your New Year 2017 be?