The latest RSL draw triples the excitement of a home lottery win by offering you the chance to walk away with three luxurious apartments at once. Each one comes complete with a lavish design package and top of the line furnishings and electricals. If you want to feel like a mogul, there's no better way to do it than by picking up the keys to your new apartments in Melbourne, Sydney and Airlie Beach.
The beauty of winning multiple properties is that you can pick and choose where you want to live – and how much rental income you'd like to receive. The approximate combined return on renting out the three apartments is just over $126,000 a year and given their locations, that figure is only likely to rise. This fantastic first prize package is worth over $2.7 million and comes with terrific investment and income potential. Live in one home and rent out the other two or sell all three and take your millions to the bank.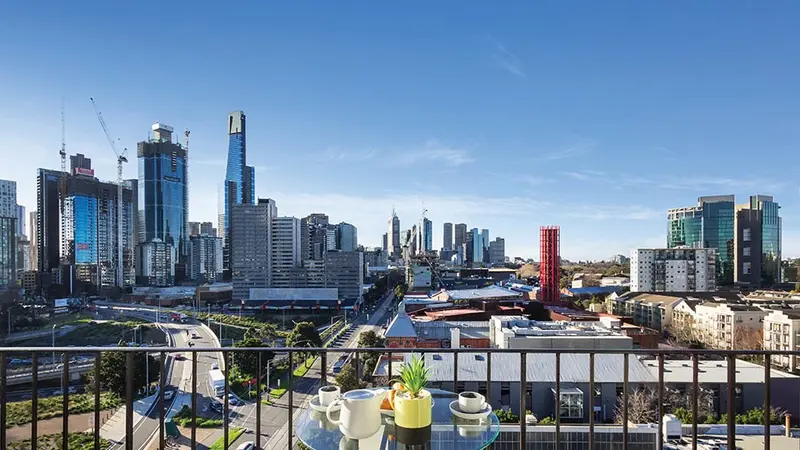 The apartment in Melbourne is a stylish one-bedroom located in Southbank, close to the city's cultural precinct. You'll enjoy great views of the Melbourne skyline and be within minutes of the art galleries, shops and cafes of St. Kilda Road.
The Sydney apartment lets you feel like you're living in a resort right in the middle of the country's biggest city. The complex has three pools, groomed gardens and all the amenities you'd expect from a luxurious residential development.
The third home is in Airlie Beach in the heart of the Whitsundays. Living alongside the Coral Sea is like being on a permanent tropical vacation and you'll be able to make the most of all the attractions and natural wonders that draw visitors from around the globe to this very special part of the country.
A Home in Southbank
This one-bedroom apartment is in CityView Tower 2, right in the heart of Melbourne's Arts Precinct. You'll be able to stroll the riverside promenade along the Yarra, stop for a craft beer, and take in any number special exhibitions, plays and live performances.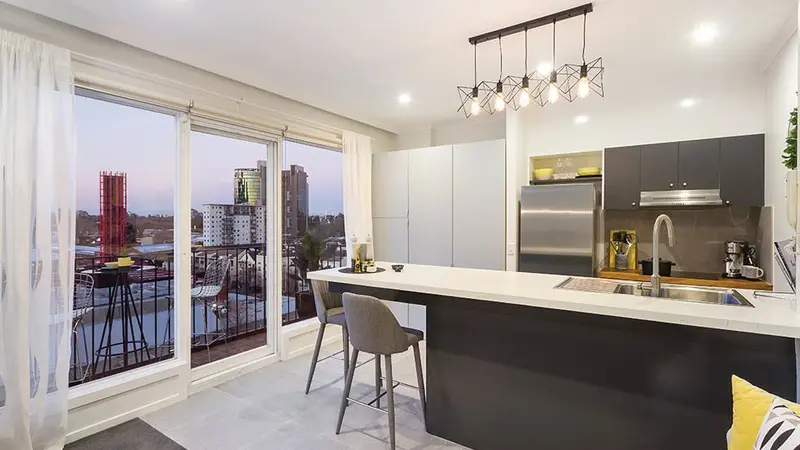 The apartment is functional, stylish, and loaded with great appliances and beautifully textured furnishings. The spacious balconies look out over the city and you'll be only a couple of kilometres from the CBD. Keep the apartment as your retreat in the city or rent it out for an estimated income of around $27,500 a year.
Features of the Melbourne Apartment
Total first prize package is worth $2,703,056
The apartment complex was built in 2017
Home covers 63 square metres and is worth $495,000
Blended kitchen and living room with white, soft grey and yellow décor
Breakfast island in the kitchen provides space for dining and there is also room to eat out on the balcony
Master bedroom with large robe and views of the city
Walk-in shower in the bathroom
$29,103 worth of furnishings and electricals
Laundry
Building has a pool and fully equipped gym
Air conditioning
Single vehicle parking space
12 months of rates and water worth $1,145
Legal transfer fees worth $1,375
12 months of body corporate fees worth $4,326
Transfer duty worth $24,770
$27,560 per year estimated rental income
$3,000 travel voucher included in the grand prize package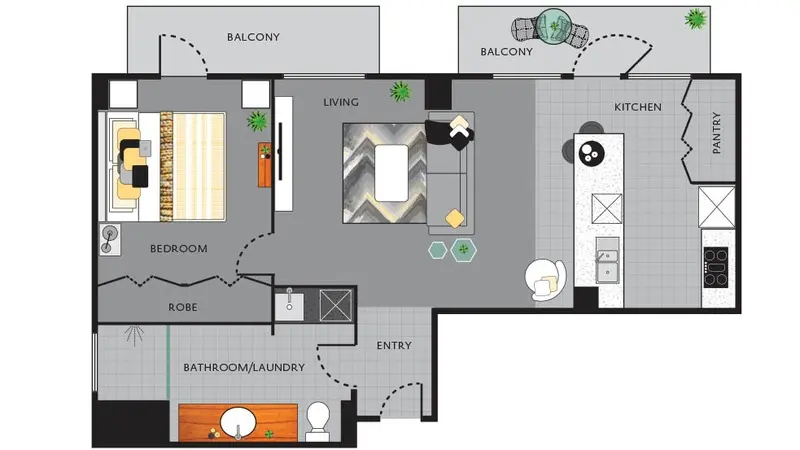 This apartment will not be open for public inspection. It is located at "CityView Tower 2", 49/161 Sturt Street, Southbank, VIC 3006 and you can take a look if you happen to be in the neighbourhood and want to check out the location.
A Home in Sydney
The apartment in Sydney is a bright two-bedroom in Zetland, a central neighbourhood that's about fifteen minutes from the CBD. Emerald Park is a highly sought-after apartment complex that's known for its resort-style living. You can relax in the tropical lagoon pool, swim in the lap pool, or take in the view from the rooftop pool. The grounds of this prized residential development are beautifully landscaped and the buildings themselves have great curb appeal.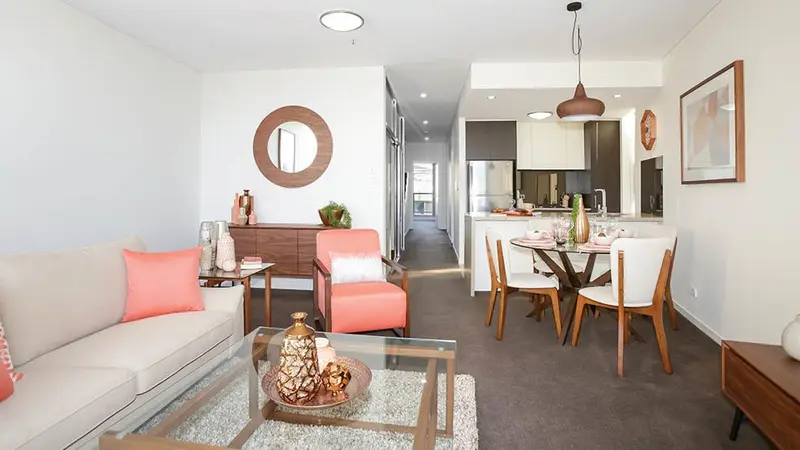 The apartment is both spacious and equipped with a superior design package. A short flight of steps from the entryway leads into the cozy living area that opens onto a lovely al fresco. The kitchen has a roomy central island, lots of workspace, and terrific appliances. Both bedrooms are generously proportioned and there's even an enclosed study off the living room.
Features of the Zetland Apartment
Total first prize package is worth $2,703,056
The apartment complex was built in 2012
Home covers 138 square metres and is worth $1,025,000
Main living area includes the kitchen, dining area and lounge
Balcony al fresco with expansive views of the Sydney skyline
Two bedrooms including a master with ensuite and double robes
Second balcony that's accessible from both bedrooms
Full bathroom with laundry facilities
Home study
Choice of three swimming pools and spa
Common BBQ and entertainment area
12 months of rates and water worth $1,733
Legal transfer fees worth $1,375
12 months of body corporate fees worth $4,602
Transfer duty worth $43,260
$49,400 per year estimated rental income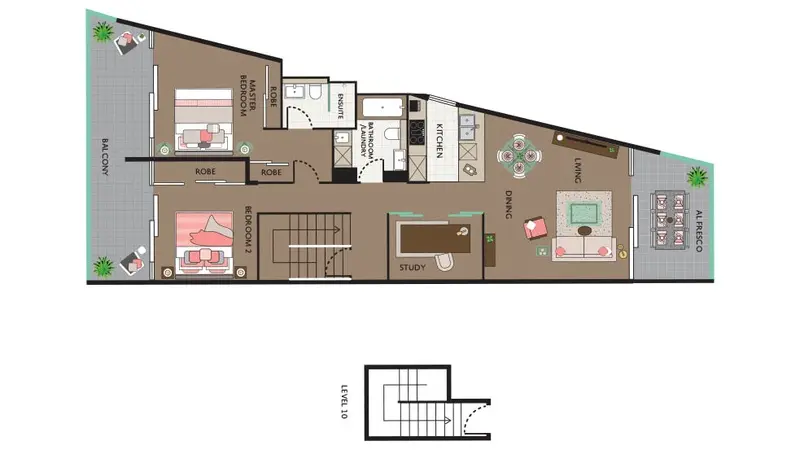 This apartment will not be open for public inspection. If you'd like to take a look at the building and grounds, however, you'll find the apartment complex at "Emerald Park", 1014/5 O'Dea Avenue, Zetland, NSW 2017
A Home in the Whitsundays
After taking a closer look at the third apartment in this cross-country trifecta, you may well agree that we've saved the best for last. This final home is a three-bedroom residence in Airlie Beach with the expanse of the Coral Sea laid out before you. You'll be taking full advantage of your three outdoor decks in a tropical climate that's sure to put you permanently in a holiday mood.
Visitors who want to savour the natural beauty of the Whitsundays often start with a visit to Airlie Beach. That means your taste buds will be spoiled for choice with tons of great seafood restaurants, cafes, open-air markets and street vendors in the neighbourhood. You also won't have any problem finding world-class entertainment from local buskers to classy concert events.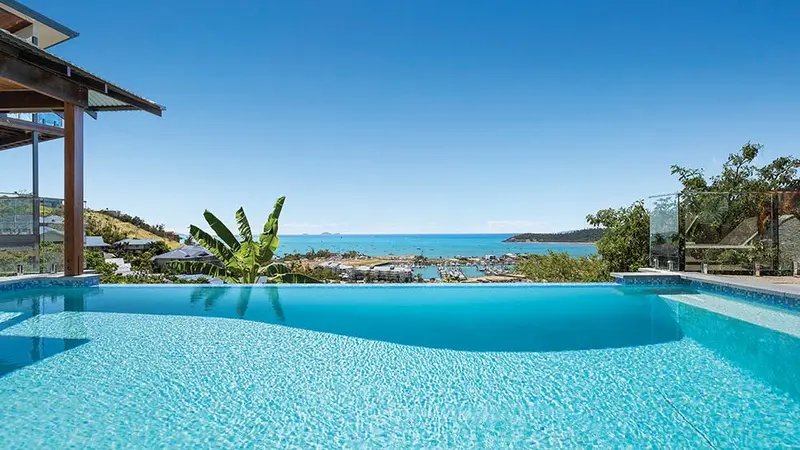 This is a haven for anyone who likes to sail and on any given day you'll see dozens of boats in the clear blue waters in front of your home. The man-made swimming lagoon on the foreshore is safe (and free of jellyfish), and there's no end of snorkeling and scuba diving adventures to be had close to home. Explore the marvels of the Great Barrier Reef, walk through the pristine rainforests, and spend a lifetime exploring all 74 islands that make up the Whitsundays.
Your new home is spread over two levels of luxurious comfort in the Elementa residential complex. The entry level of the apartment is divided between an open concept kitchen, dining and lounge area, and a large master bedroom. If you think it's hard to get worked up about a bathroom, wait until you see the master ensuite! Timbered countertops, mirrored walls and a full walk-in shower are just a backdrop to the gorgeous Picasso stone tub and matching sink.
Downstairs, you'll find two additional bedrooms, a second lounge, and two more outdoor decks. The relaxation deck lies immediately beneath the upper al fresco and faces the ocean. With so many places to sit out and enjoy the view, watching the tide could become a full-time job!
Features of the Airlie Beach Apartment
Total first prize package is worth $2,703,056
The apartment was built in 2017
Home covers 244 square metres and is worth $940,000
Spacious kitchen with stone benchtops has seating for six around the central island
Open living area moves seamlessly into an al fresco with wooden deck and panoramic views of the Coral Sea
Numerous appliances including a wine fridge
Main floor master bedroom with walk-in robe, fabulous views and exceptional ensuite
Second bedroom on lower level with ensuite
Third lower level bedroom and additional full bathroom
Second lounge/family room/media room
Extra storage space downstairs
Three decks in all including al fresco, relaxation deck and rear open deck
Laundry
Blackbutt flooring
Furnishings and electricals package worth $72,220
Swimming pool, Teppanyaki BBQ and common area for entertaining within the complex
Private garage with space for 2 vehicles
Air conditioned
12 months of rates and water worth $2,869
Legal transfer fees worth $1,375
12 months of body corporate fees worth $4,995
$49,400 per year estimated rental income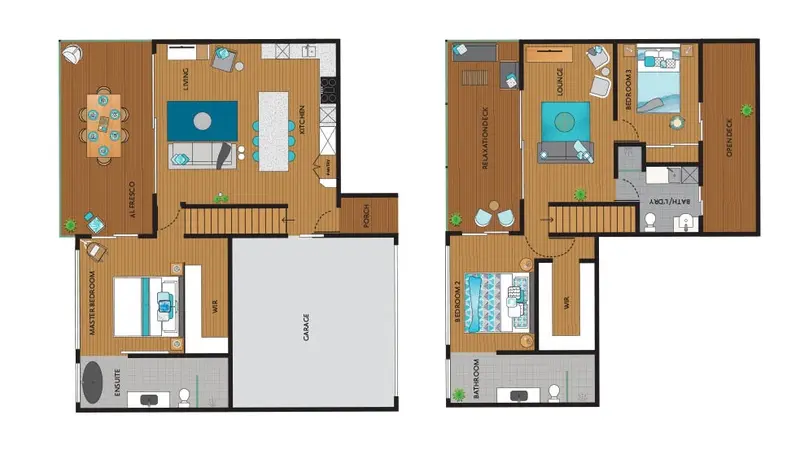 This apartment will not be open for public inspection. If you'd like to view the exterior of the Elementa complex, you can see it at 2/26 Mount Whitsunday Drive, Airlie Beach, QLD 4802.
Second and Third Prizes
The excitement of draw 360 doesn't end with the grand prize. Your ticket also gives you a chance to win the second prize of $10,000 in gold bullion or a third prize of $5,000 worth of gold.
Take Note of These Important Dates
13 November 2018: The RSL Art Union Prize Home Lottery Draw 360 closes at 8:00 pm AEST
21 November 2018: The draw will take place at 10:00 am at Anzac House, 283 St Pauls Terrace, Fortitude Valley QLD 4006.
You are more than welcome to attend the draw in person and watch as one lucky winner takes home three apartments worth a total of $2.7 million. And that person could be you!
The RSL will contact winners by registered mail once the draw is over. Look for a list of winners in The Courier Mail and The Australian on 23 November 2018. Winners will also be posted to this site following the draw.
A Permanent Income
Choosing to rent out the three apartments could net you an income that will allow you to retire early, work part-time, or do something entirely different with your life. That's because the estimated total annual income from the three apartments is in excess of $126,000. If you decide to live in one of the homes and rent out the other two, you can still expect to receive between $77,000 and $100,000 a year depending on which one you choose for yourself.
All three homes are in hot real estate markets and if you decide to sell you'll be a multi-millionaire. Hanging on for a few more years may add to your profits but selling now could launch the lifestyle you've been waiting for. If you've got the winning ticket on November 21st, be prepared for some tough decisions!
Draw #360 Ticket Books Now on Sale
Ticket books always provide great value by giving you bonus chances to win after making a $20 purchase. By buying multiple tickets in the same name, you'll start getting free chances while adding valuable gold bullion to the first prize package if you're the lucky winner.
| | | |
| --- | --- | --- |
| Spend | Receive | Bonus Prize |
| $100 Book | 25 Chances to Win (5 bonus tickets valued at $25) | $135,000 Gold Bullion |
| $75 Book | 19 Chances to Win (4 bonus tickets valued at $20) | $105,000 Gold Bullion |
| $50 Book | 13 Chances to Win (3 bonus tickets valued at $15) | $85,000 Gold Bullion |
| $30 Book | 8 chances to Win (2 bonus tickets valued at $10) | $55,000 Gold Bullion |
| $20 Book | 5 chances to Win (1 bonus tickets valued at $5) | $40,000 Gold Bullion |
| $10 Book | 2 Chances to Win | $30,000 Gold Bullion |
The $50 Book is the most popular package. It gives you 13 chances of winning with 3 bonus tickets and if you are holding the winning ticket, you also receive an additional $85,000 in gold bullion.
Your Support of the RSL is Appreciated
Proceeds from your ticket purchases will help the RSL provide important services to Australia's returned servicemen and women. Every year, the RSL assists thousands of veterans who require counselling, financial assistance, hospital visits and help with DVA claims. That support is only made possible through the proceeds from the 10 RSL home lotteries that are held every year, and your support is much appreciated. We hope you'll soon be juggling the keys to three different apartments and trying to decide just what to do with your amazing windfall. Good luck in the draw!