How good would it be to climb out of your sparkling inground pool after swimming some laps, to sit down for breakfast in your alfresco overlooking Brightwater Lake in Mountain Creek on the Sunshine Coast? Surf Lifesavers are proud to bring you the opportunity to live and love life on the Sunshine Coast. You could be welcoming in the New Year 2017 with the new title of "Millionaire"
10 Calder Crescent, Mountain Creek, has a ring to it, especially as it is a waterfront property set amongst other Million Dollar Properties in a prestigious precinct. You would be forgiven for thinking you are on top of the world and as you should! You will feel like you are on a permanent holiday. It is a lifestyle many would love to get used to. And it could be yours, all it takes is one ticket to win!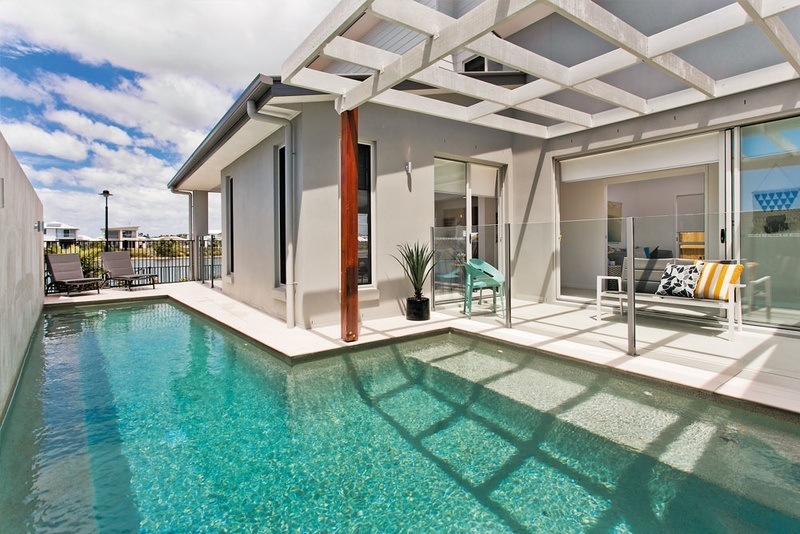 Let's have a close look at what is included in the first Prize in Lottery 179
The complete prize amount is $1,001,399 and is made up of the following;
the land is located on the edge of Brightwater lake in Mountain Creek, it is 444m2 in size and comes fully landscaped. All you need to do is ensure the garden has water and watch it grow, much like your Home price will over the years.
A New two story craftfully designed 230.6 m2 home with skillion roofs and fully fenced.
a superb inground pool with frameless glass pool fencing and deck chairs to soak in the warmth and to dry off after a swim. You will want to be entertaining friends and loved ones all the time. Indeed they might be inviting themselves over a lot more. Unfortunately, it may not be your charms they are dying to spend time with, especially as they rock up with togs on and their own towel.
The master suite occupies the entire top level, with a cleverly designed walk in robe located behind the bedhead. The ensuite has his and her basins and plenty of storage in the vanity, a frameless mirror and huge shower. At the top of the stairs, there's a landing, that is home to a relaxing retreat, with a desk for two, where you could establish a home office.
On the ground level, there is a double lock up garage to the street front of the Home. There are three pillars, each with an up down light, which captures the essence, of being an inviting home with attention to detail.
Outside, overlooking Brightwater lake is your alfresco with a table that seats 6 and a BBQ for close by cooking, it sits between the lake and the pool, there is also a terrace that sits between the pool and the living zones.
inside the kitchen overlooks the lake, it has solid surfaces, a counter, walk in butlers pantry, stainless steel appliances and oodles of storage.
also overlooking the lake is the dining room which seats 6
overlooking the pool and looking across the alfresco to the lake is the living room, with a large flat screen television, this room is well located for adult entertaining
looking across the terrace to the pool is the lounge room with another large flat screen television, this is well located as the kid's domain. That should avoid arguments about which channel the t.v. should be on at any given time.
3 relaxing bedrooms, each smartly furnished with double beds with copious pillows
there's two bathrooms, with the main bathroom having a separate toilet.
$5,000 in cashable Gold Bullion to help pay for the first twelve months of Water and Council Rates.
Surf Lifesaving Lotteries, cover the costs of stamp duty and legal fees to transfer the property.
You would thoroughly enjoy the lifestyle this property would afford you, from riding throughout the local area, to twilight walks along the waterfront. This Mountain Creek home is so well located for the plethora of activiticlose byeby.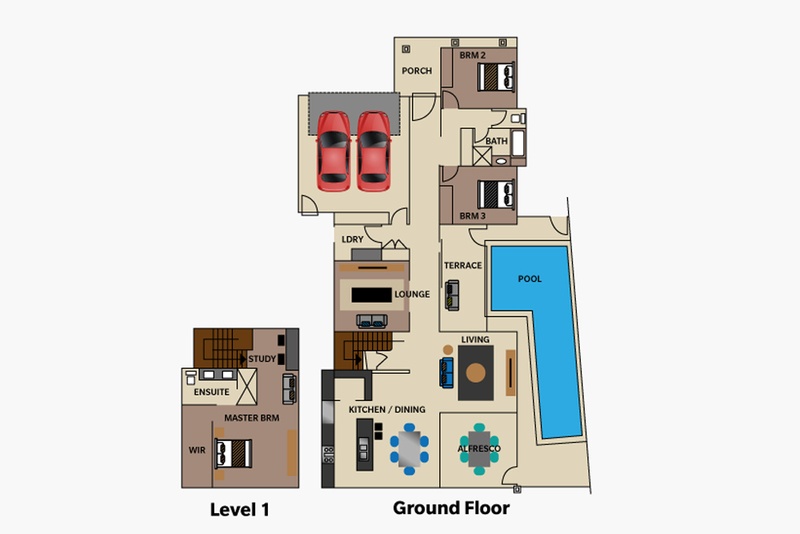 Live, Life and Love the Sunshine Coast Lifestyle.
One of the things locals love most about living on the Coast is the outdoor living, the local weather conditions allow. There are so many sports that are popular throughout the Region, such as; soccer, rugby league and rugby union, indoor soccer, basketball, netball, rowing, swimming, surfing, boating, fishing, jet skiing, hiking, running, riding, golf, tennis, Surf lifesaving and the list goes on.
The Sunshine Coast economy is quite diverse too, the two largest industries would be hospitality, as the Region is a holiday destination and what happens when holiday makers love what they see? Well many of them head home, pack their things and head straight back to the Coast to adopt the lifestyle they wish to emulate. This brings us to the second major industry which is building and construction and all of the peripheral/support manufacturing, trades and services that make up the balance of that. Naturally, the next big employers would be retail, manufacturing and to a smaller extent; innovative and clean industries. There are Education facilities, such as the Sunshine Coast University, which attracts international students, lastly (well for this list anyway) Call Centres provide employment opportunities for locals.
A very exciting emerging juggernaut with the looming completion of the new Kawana Public and Private University Hospitals, and surrounding Medical Precinct, it's just 5 minutes from Calder Crescent Mountain Creek! It is widely anticipated that the Hospital once the doors swing open for the first time; will bring a significant influx of staff, patrons and consumers and following closely behind will be the need for housing both short and long term, as well as a mix of duration contractors (2-3 years) and those who permanently make the Region their home. Watch this space. You can beat the crowds, you can be at the start of the line, buy your tickets today for your chance to Live and Love the Lifestyle of the Sunshine Coast.
Remember these dates
Surf Lifesaving Lottery 179 will Close at 12.00 noon AEST 20th February 2017. The Winner will be Drawn at 12.00 noon AEST on 24th February 2017. The Winner will be advised by registered post. Results to be published on 3rd March 2017 in the "Australian" newspaper.
Tickets are limited and sell fast, so secure yours today, before you miss out!
This is your chance to live the dream, that may be to cut down your working hours and spend more quality time with your loved ones, it could be to retire sooner, or it could be the start out, that will set you on the right track to financial security. It does only take one ticket to win, but the more tickets you have, the more opportunity you have, of holding the right one. And the more tickets you buy, the cheaper the tickets become, take a look at the graph below to decide what fits best for you :) Car Prize values include dealer delivery and all on road costs, e.g. compulsory 3rd party insurance. Ticket sales are limited to between 2,500,000 (single ticket purchases) to 8,000,000 (if bundle purchases occur)
| Investment and Price Per Ticket | Number of Tickets | Total Package Includes |
| --- | --- | --- |
| $2 | 1 Ticket | $1,001,399 |
| $5 | 3 Tickets | $1,001,399 |
| $10 | 6 Tickets | $1,002,399 Plus a Good Guys Voucher for $1,000 |
| $20 | 20 Tickets | $1,021,399 Plus $20,000 Cashable Gold Bullion |
| $30 | 40 Tickets | $1,031,399 Plus $30,000 Cashable Gold Bullion |
| $50 | 70 Tickets | $1,051,399 Plus $50,000 Cashable Gold Bullion |
| $100 | 150 Tickets | $1,061,399 Plus BMW 3 Series Sedan F30 318i — Sport Line |
| $200 | 400 Tickets | $1,071,399 Plus Mercedes-Benz C-Class C 200 Sedan (Iridium Silver Metalic Paint |
Surf Lifesavers volunteer their time to patrol our beaches.
Last season alone, over 34,000 first aid treatments were performed, from minor cuts and marine stings to suspected fractures and spinal damage. The volunteers time is given freely and at no cost to the public. However, lifesaving equipment, training, community education programs and provision of support services, costs money and this is where they seek support from the public. There is no second chance when it comes to saving lives, so repairs and replacements of essential equipment, are necessary to ensure the right equipment is ready and in good working order when it is needed. By purchasing tickets in Surf Lifesaving Lotteries, you help support the ongoing efforts of volunteer Lifesavers across Australia, to save as many lives as is humanly possible. Please offer what support you can and we wish you the very best of luck, that you may be the one to be holding that lucky ticket :)