What could be better than being on holiday in a stunning Architectural designed absolute waterfront home, kicking back beside the pool, got the sunglasses on, got the tan happening, rolling into the pool to cool off every now and then? Well owning it of course! Now if you are like most of us, this really is just a pipe dream. You don't need to have Parents who can hand down the family riches, but you do need to buy a ticket. And starting at just $15 it is affordable for most of us to dream a little easier. You could laze around in your dressing gown (with bathers underneath of course)!
The latest yourtown Prize Home located in Maroochydore on the ever sunny Sunshine Coast in SEQLD has shaped up to rival the best yet. If living in a multi-million dollar home, surrounded by other multi-million dollar homes is not your thing, then no need to apply for this gig. I'm putting my hand up to be front of the line. I love the sound of a 4 bedroom Architecturally designed Home purpose built in 2016, I love the thought of water views from nearly every room, sure I'd love a contemporary living room and stylish dining room and I'm not going to knock back a media room or enormous undercover alfresco either. Look even if you were going to throw in an ultra modern kitchen with solid surfaces, window splashback and breakfast servery, I'd surely still jump at it. Would it be too much to ask for an absolute waterfront deck with frameless glass handrails? Ok, how about a complete furniture package and $100,000 in Gold bullion with that? Oh stop me now, I've woken in the place dreams were born... If this sounds remotely like something you would love to be part of, even the living in part, you will need to buy at least one ticket, sure, more if you can afford them, why not?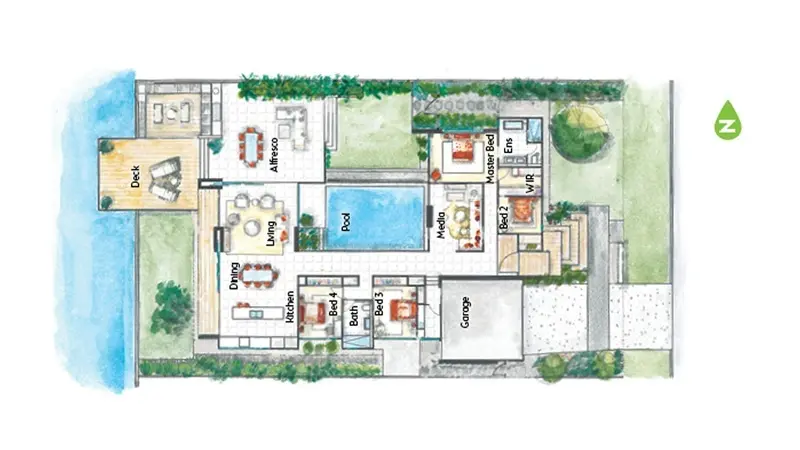 First Prize in your town's First Home for 2017 Draw 463 is valued at $1,904,702. Here is what winning looks like;
$100,000 worth of Gold Bullion
$135,774 complete furniture and electrical package
12 months Council & Water Rates paid for
12 months building & contents insurance
Legal fees transfers & duties are covered
$5,000 Flight Centre voucher to view the Prize Home
Additional Gold Bullion for multiple ticket buyers
Absolute waterfront block 734m2
Stunning New Home built in 2016 with 343m2, including 243m2 internal, 37m2 garage & 63m2 alfresco & entry
divine inground swimming pool with deck & frameless glass pool fencing
Extensive waterfront decks with frameless glass handrails, including a winter deck with central heat pit
floor to ceiling water views from kitchen, dining, living & master bedroom & media room
Polished exposed aggregate floors throughout living areas
Extra high ceiling through kitchen, dining & living areas
Timber sliding privacy Screens to Kitchen, dining living areas
If like me, you think this sounds like the sort of lifestyle you could fast get used to, first, you need to Buy tickets to win!
2nd and 3rd drawn are winners too:
2nd Prize; FlightCentre voucher or David Jones gift card or Harvey Norman gift card Total 2nd prize value $10,000
3rd Prize; FlightCentre voucher or David Jones gift card or Harvey Norman gift card Total 3rd prize value $5,000
Inspection days and Draw Dates
yourtown Draw 463 Opens to visitors 9 am — 5 pm AEST 7th December 2016 until 23rd December 2016, re-opening from 28th December 2016 to 27th January 2017. Draw 463 closes Friday 27th January 2017 10 pm AEST. Winners Drawn Tuesday 31st January 2017 10 am AEST. Draw to be conducted at 16 April Court, Maroochydore, Qld 4558. The public is welcome. Please be thoughtful for neighbouring houses, as the Prize Home is in a residential area, please also abide by road rules and local parking requirements. As it is school holidays there will be children who may not be as attentive to road conditions as you should be.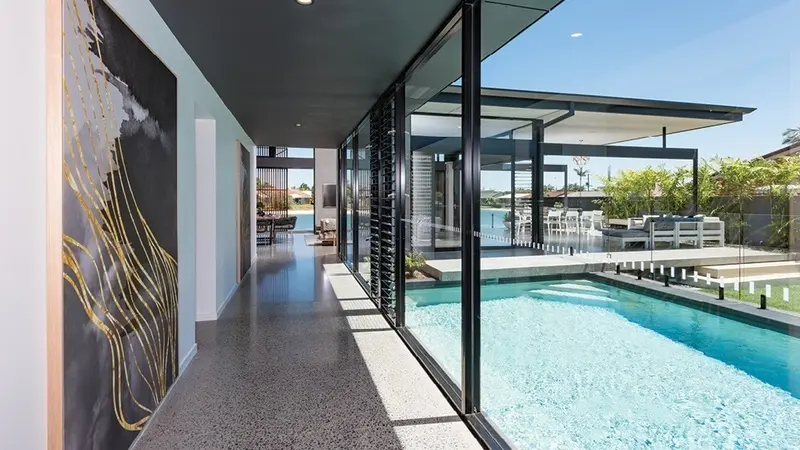 You can win more Gold Bullion with more Tickets
Buy multiple tickets at $15 each, in the same name and if one wins 1st Prize, you win even more Gold Bullion ( I like the way that sounds)
| Number of Tickets purchased | Amount | Value of Additional Gold Bullion |
| --- | --- | --- |
| 1 Ticket | $15 | Gold Bullion included in 1st Prize Package |
| 2 Tickets | $30 | $20,000 in additional Gold Bullion |
| 3 Tickets | $45 | $30,000 in additional Gold Bullion |
| 4 Tickets | $60 | $40,000 in additional Gold Bullion |
| 6 Tickets | $90 | $60,000 in additional Gold Bullion |
| 8 Tickets | $120 | $80,000 in additional Gold Bullion |
| 10 Tickets | $150 | $100,000 in additional Gold Bullion |
| 15 Tickets | $225 | $150,000 in additional Gold Bullion |
yourtown Prize Home Draw 463 is open for inspection
Where: 16 April Court, Maroochydore, Qld 4558
Directions
From Bruce Highway; Take Exit 194 to Sunshine Motorway & drive towards Buderim/Mooloolaba, take the exit to Maroochydore/Noosa Heads, in 6.8 km turn left towards the Bradman Avenue exit, continue on to Duira St, Turn right onto Bradman Avenue, turn right on to Yinni st, continue on to Summer Dr, turn right onto April Court.
Join the Sunshine Coast Lifestyle
The Sunshine Coast is arguably one of the most desirable locations in the world to live, from its' natural beauty to the man-made attractions, the diverse economy and the people, it truly has something for everyone. Some of the attractions in and around Maroochydore are;
Underwater World at Mooloolaba Wharf is the perfect family day out, there are many shows with the residents of the wet variety, you can even try your own hand at being one of the acts, but you will have to swim with the sharks to try out (but not before feeding time). Australia Zoo is a family favourite, you could get lucky and run into Bindy or Bob during the school holidays too, sure it would be a lot busier, but most kids would think that's a fair trade-off. Australia Zoo is one of the best Wildlife Conservation facilities in the world. Top shots fun park has mini-golf (I resisted the urge to place this in the next list I might add). They have dodge-em boats, a vertical trampoline, dozens of arcade games and they are geared well for smaller kids.
there are a number of gold Clubs on the Sunshine Coast, Maroochy River Golf Club, Twin Waters Gold Club, Noosa Springs Resort and Golf course, Peregian Springs Golf Club, Pelican Waters, Headland Golf Club, Caloundra Golf Club, Cooroy Golf Club, Noosa Golf Club, Mt Collum Golf Club, Noosa par 3 Golf course, Tanowah Golf and Tennis, Beerwah Golf course, Mooloolah Gold course. Did I miss any? I'm sure the locals will tell me. Has anyone tried them all?
Unlike the Gold Coast which has large one albeit very famous stretch of beach, if the conditions aren't in a surfers favour, they are out of luck or will resort to traveling, depending on their level of commitment on the day. Whereas with the Sunshine Coast, the beaches wind their way around headlands and other natural landmarks such as islands (Bribie Island is one example) and waterways, (two-way Lake is one example) which have an impact on the nature of the beast (beach). While the wind may be blowing from say, South West one beach may be swirly and not ideal at all, other beaches will be protected by natural landmarks and surf's still on. All this talk about surf sounds like a tricky gig, never tried it myself, I love to look at the waves, asking me to master them is a whole new level of difficulty, you get the drift. (See what I did there?) I may still have some talents, but humour is probably not one of them either.
Fashion, how oh how did fashion end up 4th on this list and after golf too? Someone has their priorities out of order... Fashion, oh where do we start? Shopping for fashion is one of my favourite pastimes, Sunshine Plaza is probably the location where you will get the biggest bang for parking once. Otherwise, The boutiques all across the Coast are very impressive, the beach fronts locations all offer a plethora of choices, from resort-wear to smart casual, right through to event-wear and career clothes. A personal favourite location is Montville, the drive up the range is really breathtaking, but the main Street is divine, its incredibly picturesque, each boutique and specialty store has its own charm, all of a sudden, you forget about how rushed everything seems to be, there is just something magical about the location, which takes a perfectly enjoyable pastime and takes the experience to a whole new level. It's completely guilt-free shopping folks, even lunch in Poets.
yourtown have put in the hard work, you get to decide what to do with it.
If you are the lucky winner of the yourtown Draw 463 1st Prize Luxury Home, furniture and Gold Bullion Package, you will be the recipient of some serious wealth. You will be Australia's most recent millionaire for a start, would you prefer to remain private, or would you prefer to shout it to the world? You will need to decide how this new wealth will serve you best. You may love where you currently live, you may be just as happy to visit your new Prize Home but head straight back to your own bed. It may be that you love your new Prize Home and it can't happen fast enough. On one hand, you may prefer to rent you Maroochydore home out to a permanent tenant, take the furniture and run. On the other hand, you may prefer to leave the furniture and perhaps holiday let it, that way you can visit your Maroochydore home once a year for a month. You may want to keep the furniture and sell your old furniture, heck you can give it away, to others less fortunate than yourself. On one hand, you might prefer to sell your yourtown Prize Home and invest the proceeds any way you please. On the other hand, you may prefer to retain the home and release the equity by borrowing against the value of the home. On one hand, you might want to buy a safe and keep your Gold Bullion close by, while time weaves its magic and increases the value for you, or store it at your bank branch. On the other hand, you may prefer to sell the Gold Bullion, because interest is paid daily and you like to see your profits as they grow. Whichever way you look at it, there are some big decisions to be made and some super big dollars at stake, we strongly advise you to discuss your needs and wants with a trusted accountant or financial adviser, prior to making decisions that have such a monumental impact on your future wealth creation efforts.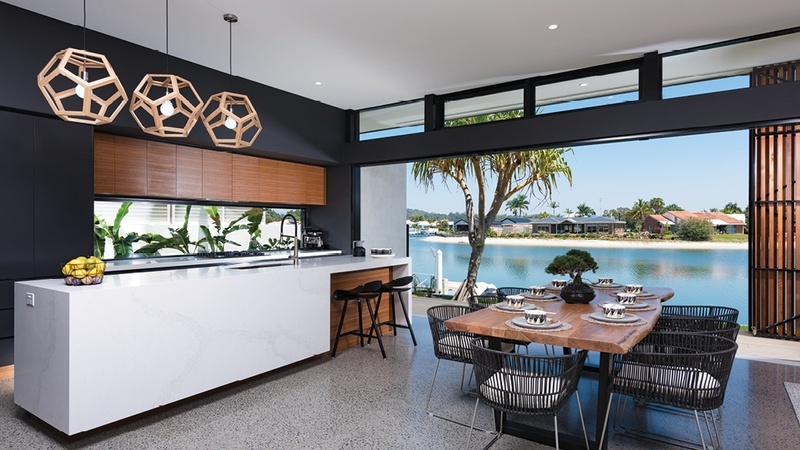 The only big decision you need to make first, is how many tickets to buy? It only takes one to win, but yourtown is an admirable cause, a couple of extra tickets could come in really handy on the day the Winner is drawn!
yourtown need your support!
Many important service and initiative would not exist today if yourtown did not exist, kids helpline is one of them. No matter the problem - tough family life, no place to call home, couch surfing, feeling sad, feeling worried all the time, can't seem to make friends, quit school, need a job, need skills to get a job, need parenting skills, need a safe place to escape family violence, don't know where to turn - yourtown is here to help.
From our team at Prize Homes, we wish you all the very best of luck!