Once again, yourtown offers an amazing chance to choose between two beautifully furnished homes; one located on the Sunshine Coast, Queensland and the other on the Mornington Peninsula, Victoria. Both homes are luxuriously built with a modern and comfortable lifestyle in mind.
If you want your life to change dramatically overnight, don't miss this chance!
Whomever wins First Prize will be provided with two options to choose from, both valued at $1.78 million. This includes the price of the home as well as all of the furnishings and electrical appliances. Keep reading on to find out more details on both these prize homes.
The first option comprises a coastal home, located on the Sunshine Coast designed to meet all your contemporary needs. Featuring 4 bedrooms and 3.5 bathrooms along with a number of other amenities, it is the complete family package.
The second option features seaside living on the Mornington Peninsula in a beautiful 4-bedroom home including everything you can dream of to realise an upbeat lifestyle.
Features of Prize Option #1
The first home chosen for this art union is located in the scenic town of Doonan, Noosa Valley. Your new abode is only moments away from the beautiful Noosa Main Beach, so get ready to have fun in the surf with friends and family.
The home comes with 4 contemporary bedrooms with 3.5 bathrooms. The impressive floor plan makes it one of the most comfortable modern houses to live in and enough space to entertain guests with ease.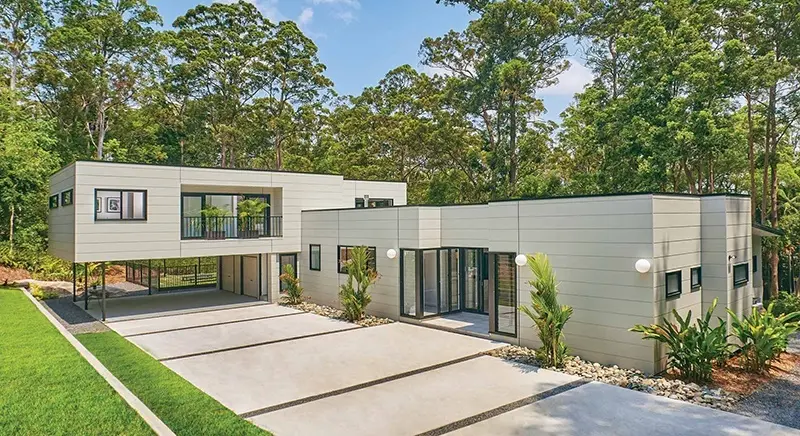 It features attractive designs with high ceilings and includes an outdoor pool as well as alfresco dining and full-sized windows in every room giving spectacular views of the surroundings. The living area covers 316 sqm and a total land area of 9,658 sqm. The remaining area includes an alfresco balcony and a family sized swimming pool, complete with a deck.
Imagine waking up in your new home that offers lovely views of the trees all around you. The kitchen is contemporary and equipped with everything you may need including a double bowl sink, a dishwasher, an electric underbench oven, and caesarstone benchtops.
The bathrooms of this prize home are a truly luxurious experience. With ceiling height tiling as well as many other modern arrangements, these bathrooms are a reflection of class and elegance. There is also a powder room with a single bowl vanity designed for the guests, as well as a laundry room with a laundry tub already installed.
Here are the details of this prize:
A furniture and electrical package priced at $123,259
A $6,500 Flight Centre Voucher for the winner
Council and Water rates fully paid for the first 12 months
Building and Contents insurance fully paid for the first 12 months
If you have always wanted to live in the beautiful surroundings that make up the Sunshine Coast, this prize option is for you.
Features of Prize Option #2
This lovely home in Rye features 4 bedrooms with 2 bathrooms and a fully equipped powder room for guests. It also comes with an outdoor swimming pool and an adjacent alfresco dining area for hours of entertainment and fine dining experiences with your loved ones.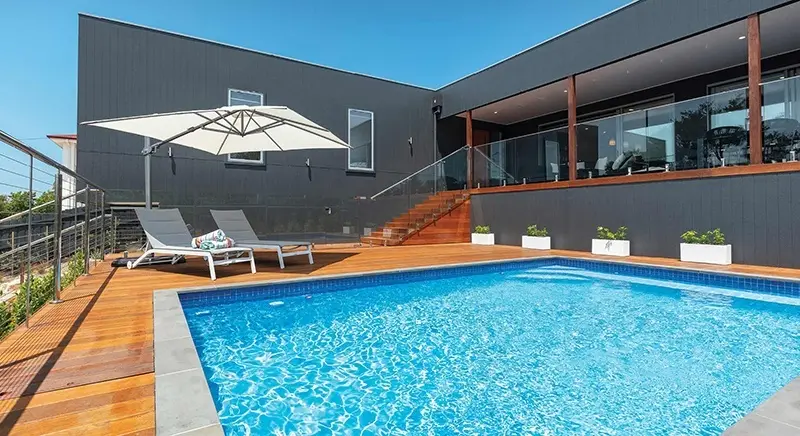 Get ready to live in the picturesque Mornington Peninsula, with tons of activities to pursue in your free time. The region is located only 45 km away from the city of Melbourne. Whether you're working in the city centre or looking to rent out your home, the convenient location of this property will have you covered.
The details of this prize home are as follows:
$146,209 worth of furniture and electrical package
$200,000 cashable Gold Bullion
A Flight Centre Voucher worth $10,000
$150 Woolworths WISH gift card
The open plan kitchen comes equipped with composite stone benchtops and the master ensuite features a porcelain terrazzo style tiled floor, and floor to ceiling ceramic tiled walls.
Everything in this house from the sparkling swimming pool, to each and every detail in the living and dining area, speaks of unmatched luxury and class. The total land area is 749 sqm with 252 sqm of living area. The car space is a dedicated 51 sqm. Check out the floorplan below or take the virtual tour for a truly immersive experience of the beautiful home.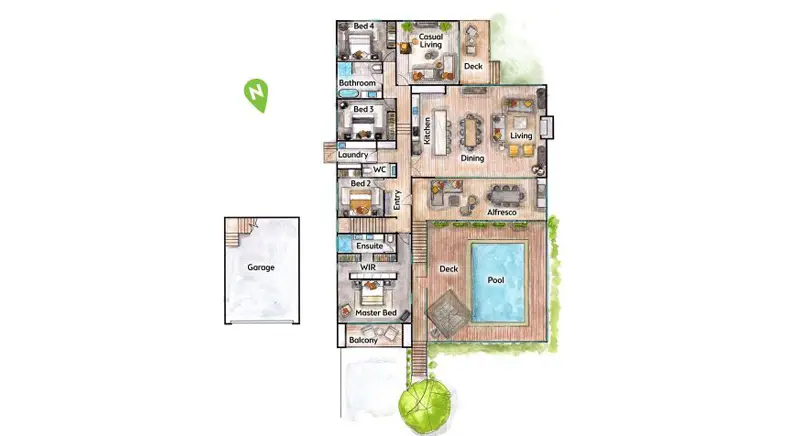 For an area that has it all, Rye is a surprisingly quiet coastal town that sits just outside of Melbourne.
Rye is a suburb surrounded by beaches, national parks, golf clubs and shopping areas. It is famous worldwide for its local wine production and you can find a large variety of award-winning local food and wine trails here.
The area features stunning beachfronts, designer homes, schools, cafes and restaurants. Rye is without a doubt the perfect setting for an ideal family lifestyle; top that off with this dream home — what more could you ask for?
Nearby attractions include Rye Ocean Beach, located only minutes away from the prize home. Another is the award-winning Peninsula Hot Springs, the natural hot springs and day spa destination, perfect for relaxing and refreshing the mind and body.
Get involved in yourtown Prize Home Draw 495 by simply buying a ticket! Eggstravaganza Bonus Draws will also be drawn on a weekly basis from 11 March until 8 April and you could win a Woolworths WISH gift card worth $3,000 if you have bought a ticket during this period!
Buy Tickets Now!
There are only 400,000 tickets available so it is recommended to act fast if you really want to make your dreams come true! The price is just $15 per ticket and by spending this amount you have the chance of a lifetime to become the sole owner of a gorgeous home in Australia. For each ticket you buy, you increase your odds of winning first prize and if purchased during 11 March until 8 April also for Eggstravaganza Bonus Draws.