Endeavour Foundation brings to you an amazing opportunity to make your dreams come true simply by participating in the lucky draw No. 427!
Have you ever imagined yourself living in a peaceful tropical haven? Well, now is your chance to make that dream come true and start your life amidst a horde of beautiful forests, hills and valleys. The prize for the lucky draw comprises a huge family home, laid out on modern architecture and furnished with the best furnishings you could imagine.
This fully furnished home also comes with a swimming pool and is located close to the famous Sunshine Coast as well as all those lovely picturesque beaches and long stretches of white sand. The property is located only 10 minutes' drive away from Sunshine Coast and all the major attractions within that area. It is also close to the Buderim town centre where you can find everything you need to live a comfortable coastal life.
It's time you updated your lifestyle by living in a beautiful and modern tropical home that features everything a comfortable and stylish residence needs. From your own sauna and pool to a dedicated BBQ area along with spacious outdoors that allow you to have unlimited fun with family and friends, this prize home in Buderim is definitely a slice of paradise!
Features of the Prize Home
The home features four bedrooms and three bathrooms and has been built for unlimited entertainment both indoors and outdoors. Not only does it come with a sauna, a deck and a swimming pool but also a teenager's nook to let those "kidults" have an amazing time. The room consists of a TV with Xbox as well as a modern study desk.
Then there is the master suite with all the modern amenities and a décor that everyone would find totally chic. It includes a beauty nook, a private ensuite and a walk-in robe. There is an alfresco balcony attached to the living area that comprises a TV lounge, dining area and open-style kitchen. You can approach it by opening up the stacker doors and get a fantastic view of the surroundings.
The home is designed in a split-storey style, which is very convenient and independent. Everyone gets to enjoy their own private space and a personal sanctuary that they can design according to their own preferences.
The total living area sprawls over 202 sqm and 78 sqm outdoor area and 36 sqm garage. The garage is spacious enough to park two cars simultaneously. It's a three-level dwelling and all three levels are fully furnished with modern furniture and furnishings that you are going to need as a family.
If you want to have some fun on the beaches located nearby, you can access them without any difficulty. Simply plan a stroll down the sand and start exploring the amazing stretches of beaches, palm trees, white surf and of course the sunshine.
The home is perfect for a small family but if you already have a beautiful place or you can't move, you can also rent it out to earn some extra cash every week. The value of properties in this part of Australia is on the rise and people are always looking for comfortable homes to live in.
Take a Closer Look
Taking a look at the furnishings and décor of the prize home, it's obvious that they are not only very comfortable and cosy but quite modern and stylish. It perfectly fits the description of a million dollar tropical haven. The outdoor area is ideal for holding parties and get-togethers and the indoor living area is designed for complete relaxation after a long and tiring day.
All bedrooms are stylized with high-quality wooden floors and the swimming pool is also surrounded by a lovely wooden deck. The outdoor alfresco also consists of BBQ equipment to let you host amazing parties at your place.
The surrounding scenery and the peaceful atmosphere of this area make this home quite desirable. In addition, its multi-storey structure makes it very flexible for families that like to rent out a portion of their home to another small family. All its units are separate and independent. Are you ready to experience the thrill and excitement of living in this tranquil luxury?
Check out its floorplan in the image below: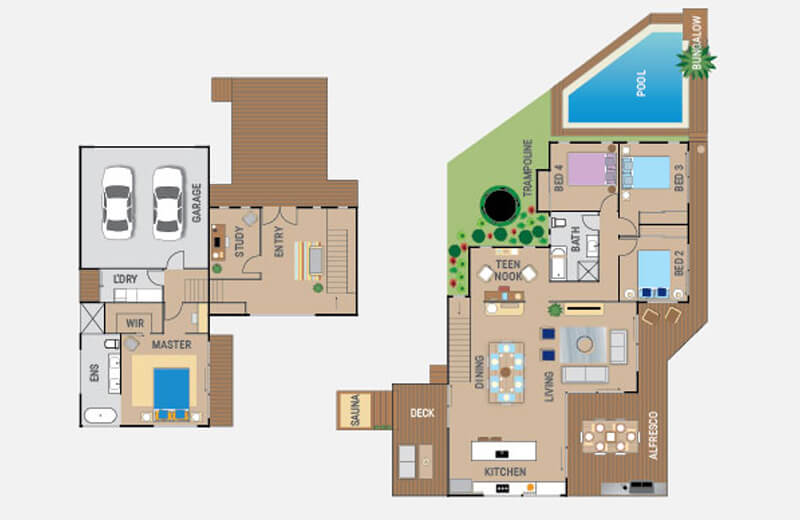 All this can become yours if you decide to participate in the lucky draw simply by buying a few tickets. The home is located only 10 minutes away from all that remarkable beauty that awaits you in Buderim. The prize also includes $10,000 in gold bullion to help the winning family have a wonderful start in their new home. One of the best features of the home is its open living style with fresh and vibrant décor that can make anyone forget their worries and tiredness in a minute.
Save the Dates!
The lottery closes on 9th April, 2020 and will be drawn on 16th April. Save these dates and act fast if you want to be a part of this amazing opportunity. Another thing to keep in mind is that, the money raised through the sale of these lottery tickets goes towards the welfare of people in Australia who are suffering from an intellectual disability. Endeavour Foundation has taken upon itself to provide funds to the organizations that are working towards the betterment of these people.
It's a great cause and anyone who becomes a part of it is contributing a lot to the nation's prosperity. People with disabilities are provided with shelter and assistance so that they can live independently in society.
You don't have to do much in order to get a chance to win this perfect contemporary Aussie home and be of service to these underprivileged Australians. Only buy a few tickets and you're good to go!